Nozzles
If your nozzle has worn out or clogged, or perhaps you'd like to try printing with a different diameter, check out our selection of 3D printer nozzles. Our nozzles are made here in the US, and we pride ourselves in their precision and quality machining. Nozzles are available in both brass and stainless steel (for printing with abrasive materials such as carbon fiber). Use the product filter on the left to determine a part's compatibility with your printer.
Fargo 3D Printing Nozzles
The output diameter on a standard nozzle for a 3D printer is 0.4mm on a MK8 hotend. Sizes available range from 0.3mm to 0.5mm. Select from these four sizes to explore differentiation in layer height and print speed. For our nozzles, we use a special labeling system shown below. Clear engraved labels will never leave you guessing as to the diameter of a certain nozzle, especially if you keep multiple on-hand at a time.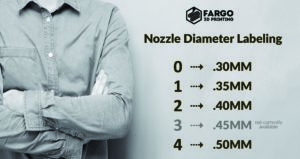 Showing all 20 results