0.4 mm Stainless Steel Nozzle – 8 mm Hex – MakerBot Replicator 2/2X
$11.25
Replacement MakerBot Replicator 2 Nozzle (2X, 5th Gen, Flashforge, CTC, etc)
0.4mm Diameter, MK8 Nozzle, 8 mm Hex
Stainless Steel
Threads Into Any MakerBot Extruder Assembly
Made in the USA
Out of stock
Description
A perfect replacement for the MakerBot nozzle, this is a 0.4 mm MK8 Nozzle for a MK8 3D printer extruder. It may also function as a Flashforge nozzle, a CTC nozzle, or for use in other compatible printers.
A proper nozzle is one of the most integral components to getting the 3D prints you want. A nozzle may suffer normal wear and tear, either through internal striations from course materials or external damage from contact with your 3D printer's build plate.
This part is machined from solid stainless steel. A stainless steel nozzle will handle wear from more abrasive materials such as carbon fiber. With an input diameter of 1.75 millimeters, it will thread into the existing MakerBot heater block and thermal barrier tube hot end assembly. Output diameter is .4 millimeters.
This MK8 nozzle is compatible with Makerbot Replicator 2, MakerBot Replicator 2x and MakerBot 5th Generation (MakerBot 5th Gen) Desktop 3D printers.
Fargo 3D Printing Nozzles
We offer nozzles in many different diameters. For differentiation, we label the nozzles as follows: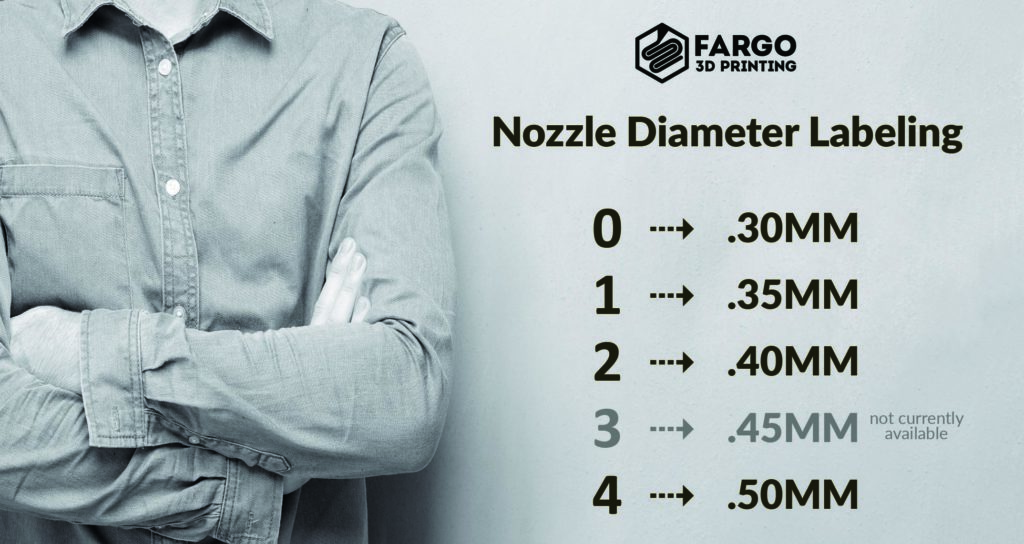 Additional information
| | |
| --- | --- |
| Weight | .05 lbs |
| Dimensions | .05 × .02 × .5 in |
| 3D Printer Compatibility | |