3D-Fuel™ – Pro PLA – Natural
$39.00
Plastic Designed Just for 3D Printing
Prints like PLA, Performs like ABS
Anneal Parts in Any Conventional Oven
Impact Strength 2.3x Greater than ABS, 4.3x Greater than Standard PLA
1kg of Material
Description
Clear Pro PLA Filament
Pro PLA (APLA+) in Natural has higher impact strength than ABS and PLA with a heat resistance rivaling that of ABS! Available in 1.75mm and 2.85mm diameter, new Pro PLA will help your 3D printed projects look fantastic and perform amazing. Clearly Natural filament produces a white/clear final print color. Anneal your design after 3D printing for even better heat resistance.
There is a huge demand in 3D printing for better PLA. 3D-Fuel Pro PLA is engineered and designed specifically with 3D Printing in mind, meeting high impact strength needed in industrial applications. The new Pro PLA boasts an impact strength at 4.3 times that of PLA, and even before post-processing it exhibits significantly higher impact strength than ABS.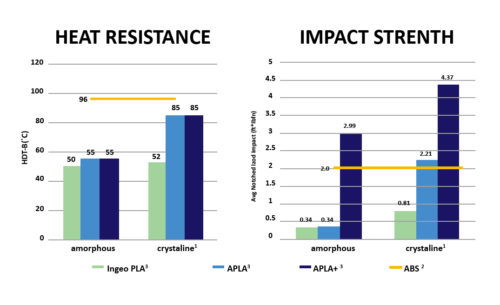 Quality
All 3D-Fuel 3D printer filament is manufactured in a production facility located in Fargo, North Dakota, and Moville, Ireland in Europe. We have complete control over the manufacturing process and are able to ensure consistent quality for every spool.
Diameter Tolerance
Variable diameter can cause big problems in your 3D printer. A multi-axis laser measurement system is used to control the filament diameter and ovality in real time during production. Every spool has the diameter and ovality measurements listed right on the box.
Packing Information
A full 1kg (2.2lbs) of Natural Pro PLA plastic filament arrives on an easy-to-use plastic reel and is vacuum sealed with a desiccant packet to keep out any moisture.