Capricorn XS Bowden Tubing Kit for Creality Printers – 1.75mm (1m)
1 meter of XS Series 1.75mm Bowden Tubing
1 Ultra-sharp tubing cutter
Out of stock
Description
Upgrade your Creality Ender 3, Ender 5, CR-10, or any other 3D printer that has a bowden-style extruder with 1m or less of PTFE tubing.
PTFE tubing is an important part of any 3D Printer, whether it's serving as a filament guide tube on a direct drive system or as the filament path itself on bowden setups. Low friction and tight tolerances are very important to consistent and reliable performance, providing great prints and easy filament loading. Capricorn tubing is specially manufactured expressly for use in 3D printing.
PURPOSE BUILT
Most PTFE tubing used in 3D printing is simply 'good enough' and is chosen based on the closest size available for the given filament diameter, but in the end, it's just a tube that carries your filament. Capricorn is the first company who is manufacturing PTFE tubing specifically for use in 3D printing. Whether you have 1.75mm or 3mm (2.85mm) filament the Capricorn XS tubing offers more consistent performance for your printer.
SECRET SAUCE
In addition to the tight tolerance of XS tubing, this PTFE also has special high-lubricity additives that makes filament slide through easier than any other tubing. Printing with rough filaments like wood or metal fills is no big deal for this slippery tubing. This lubricity combined with the tighter tolerance also allows for lower retraction settings since issues of hysteresis are effectively eliminated.
CUT TO LENGTH
We understand that not everyone needs the exact same length of Capricorn Tubing and so we cut this tubing to length per order! Every 1 unit ordered is a meter of tubing, so two units will result in a single 2 meter section. If you need a specific length simply round up and we'll deliver a single length – up to 10 meters. If you require a longer section contact us at support@fargo3dprinting.com for custom cut pricing and availability.
TECHNICAL SPECIFICATIONS
Inside Diameter: 1.9mm ± 0.05mm
Outside Diameter: 3.95mm ± 0.05mm
Length: 1m per unit ordered up to 10m (if you need more reach out to support@fargo3dprinting.com)
Safety chart for Capricorn PTFE Tubing only, not for generic PTFE
For more information go to https://www.captubes.com/safety.html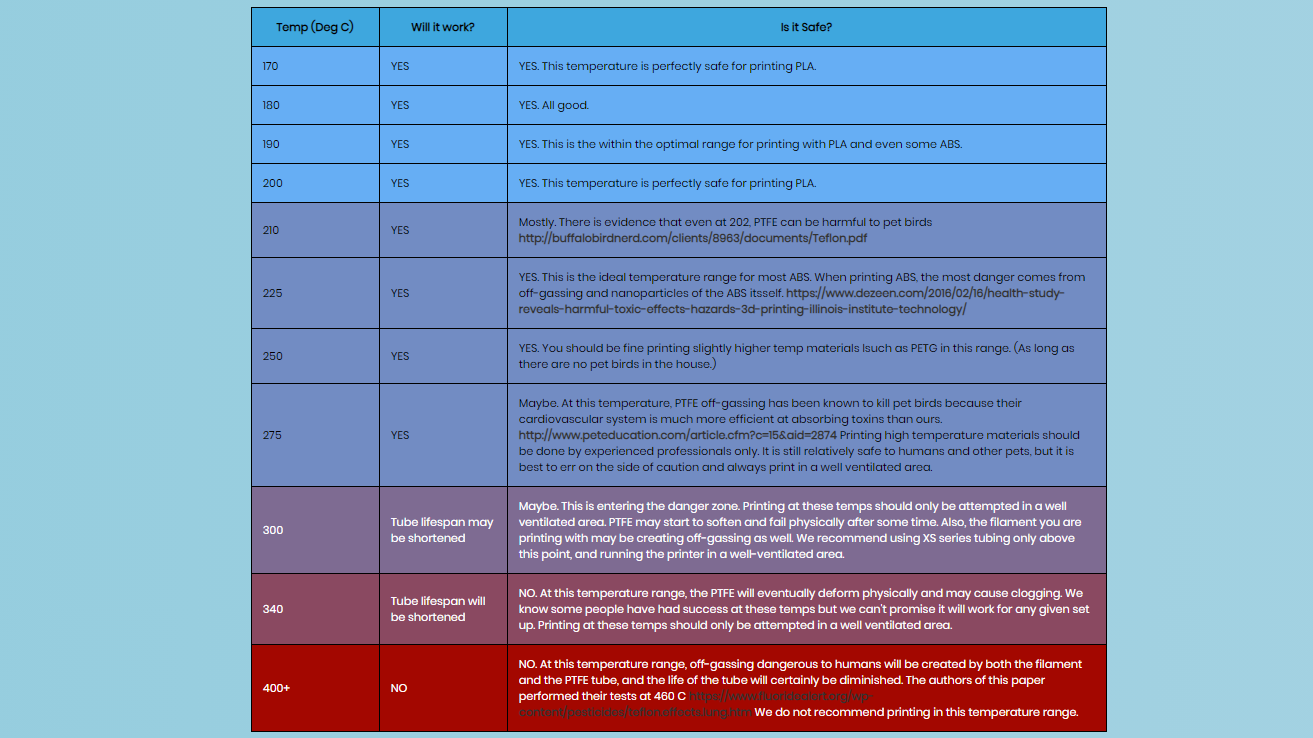 Additional information
| | |
| --- | --- |
| Weight | 0.1 lbs |
| Dimensions | 6 × 6 × 1 in |
| Diameter | |