This is a special year for West Fargo Public Schools theatre departments. Students from both Sheyenne and West Fargo will do a combined production of "Beauty and the Beast". It is the very first production in the new Sheyenne High School theatre.
Eric and I are both graduated from West Fargo High and I am a West Fargo High School theatre alum. We knew helping with the production was an opportunity we couldn't resist. Our team decided we had to print the most iconic item in the show: the rose.
Our first goal was to find a couple of rose models on Thingiverse and test print them. The process ended up feeling like Goldilocks and the Three Bears. The first print was "too perfect". The second print was "too messy".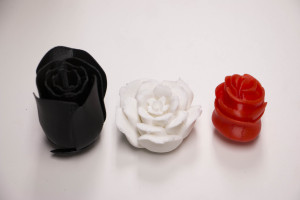 We finally decided if we wanted to print the perfect rose, we should design it ourselves. The issue was we didn't want it to look flawless. This is an "everyone will live as objects for eternity if the beast doesn't find true love" kind of rose not a "$100 Valentine's Day bouquet" type of rose.
Eric spent about 7 hours designing the final rose. We decided to print it on a MakerBot Replicator 2. The petals are printed with translucent red filament and true green filament for the stem. On the top of the stem Eric created a square peg which snapped into the bottom of the rose. He also created a few petals to spread on the bottom of the display.
It was quite the process, but in the end one of the coolest projects we have printed.
Want to see the rose in person? It will be displayed in the theatre lobby of Sheyenne High School during the performances of "Beauty and the Beast". You can reserve tickets on the West Fargo theatre website. The show runs February 13-15 and 20-22.