This week John is on train in the middle of Montana, so Eric steps in front of the camera for a change.
In the end of October, Jake and John attended the Inside 3D Printing Conference and Expo in Santa Clara, CA. There as 3Dom USA, we released Buzzed – the beer filament. It's the next step in the c2Composites line, after Wound Up, the filament made from coffee.
We've been having a good time showing of Buzzed's capabilities and product finish in different things we printed.
This beer stein is remixed from the Masskrug version from sgb33, item #983018 on Thingiverse.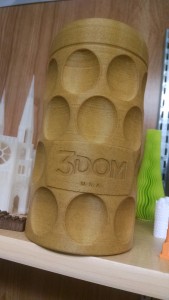 Perhaps our favorite, a tap handle from local favorite Fargo Brewing Company's Stones Throw. It came out with impressive quality on a MakerBot z18.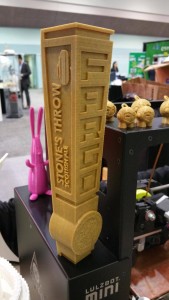 Eric also designed this fantastic bottle opener shaped like a pop tab. Just place a penny on the print about mid-way through. You can check it out on Thingiverse, thing #1089785.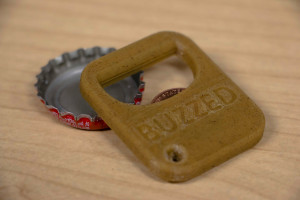 We saw a good number of memorable exhibitors at the show. Jake was most excited about Raise3D's printers. They currently have an ongoing Kickstarter, which you should check out. We saw three different machines in action and they, as well as the prints, look great.
The biggest machine is a 12x12x24 inch print bed. But the coolest feature of these printers might be the acrylic plate over the front of the drive mechanism, allowing you to see the filament work through.
Our interest was also piqued by insaniTOY, a toy maker using 3D printing for parts and whole concepts. Ray guns and skeleton hands abound.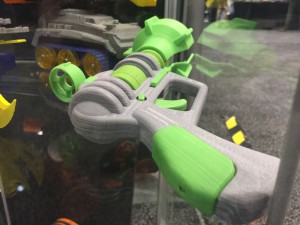 Dive more in depth with us in the podcast, episode 47.