Ah, May the Fourth – one of the punniest, funnest days of the year. You may have your Star Wars Day party at home, or at work (not every company takes the day off to play video games and watch Force Awakens on blu-ray like we're doing here). And when it comes to Star Wars 3D models, there are Truly. Endless. Possibilities. So wherever you find yourself celebrating, may the Fourth be with you all day thanks to these 3D printed Star Wars Day Party ideas.
Attire
If you can't have May the Fourth off, and Jedi robes are not exactly within your office's definition of business casual, here are two 3D models you can don with more subtlety.
Leia's Ceremonial Necklace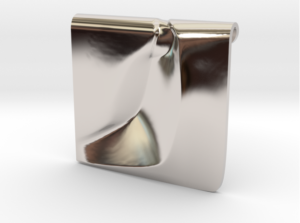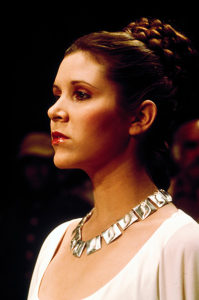 From Shapeways, this piece was originally designed by Björn Weckström, one of Finland's most famous jewelry designers. It was first seen on Leia during the Royal Award Ceremony at the end of A New Hope.
Rebel Alliance Tie Clip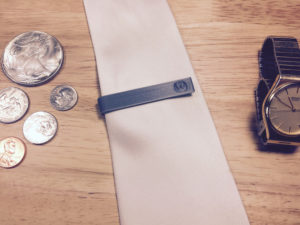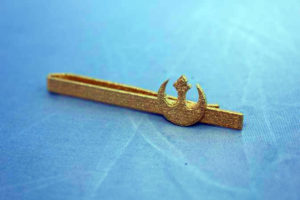 Stand against the Galactic Empire and crooked ties with this 3D printed tie clip. Here's a free version as well.
Drink
What's a holiday party without a little imbibing? May I suggest Star Wars Day themed cocktails? Use these in your journey…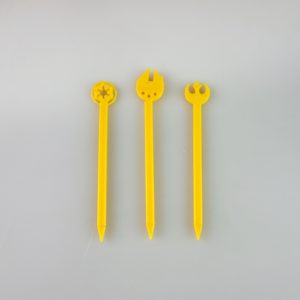 Garnish your Wookieetini, or skewer an appetizer in style. Topped by the Millenium Falcon or the Empire and Rebel Alliance symbols.
Star Wars Empire coasters with TIE Interceptor Base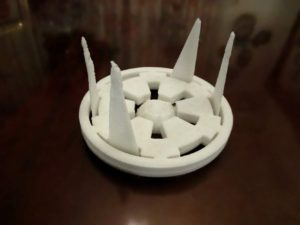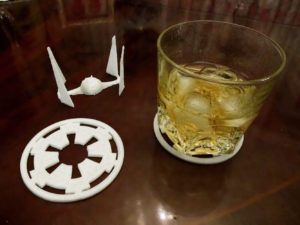 From MyMiniFactory, this one is pretty genius. A TIE Interceptor designed to hold up to 12 Empire coasters. So if you hate separatists but also ring stains, this is your jam.
Food
"Patience! For the Jedi it is time to eat as well. Eat, eat. Hot. Good food, hm?" –Yoda
Yoda Bowl
You heard the master, now eat popcorn out of his head! We printed this model by Printed Solid for the release of Force Awakens and took it to the theater where we turned a lot of heads. Also makes a great Halloween candy bowl.
Wookie Cutters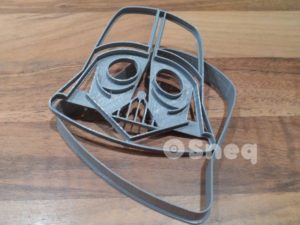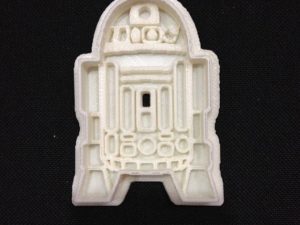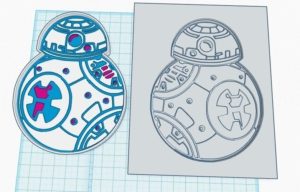 Cookie cutters are one of the the simplest things you can 3D print with the most delicious results. We generally advise to be careful when using 3D printed items with food, your tiny cookie dough particles could get caught in the small layer gaps that exist in 3D printed objects and cause bacteria buildup. So clean well and be careful. Find these great shapes here, here, and here.
FreezePop Lightsabers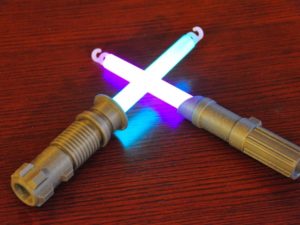 You don't need my help figuring out how to have fun with a toy lightsaber, but swapping out your plasma blade for a freezer pop is some excellent Star Wars Day Party advice. 3D print the base, pop in your popsicle, and keep your little Jedi fingers from getting too chilly. Also try a glowstick for non-edible glow-in-the-dark fun.
Activities
Lest you throw a boring May the Fourth Party, you've got to keep those friends or co-workers entertained!
Free Han Solo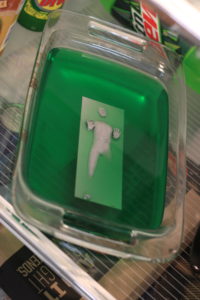 Okay, so this is both a food and an activity. Find your Han Solo model here and place him in a Jell-O mold (aka carbonite). Free him as the party goes along. Brilliant.
Star Wars Monopoly* Figurines of Your Own
*or Risk, or Sorry, or LIFE, or Trivial Pursuit.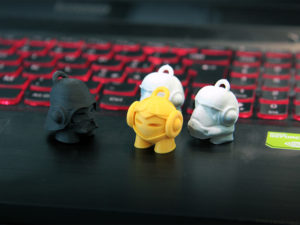 These Star Wars versions of 3DHubs' Marvin are a perfect melding of your two loves. Swap out the original game's characters with these for 'A Very 3D Printing Star Wars Day'.
So if your favorite character from the movies didn't make it into the game as an original figurine, 3D print your own model and dominate the Galactic Board Walk. Find Rey here, from Pinshape. Or here from Thingiverse.